A Guide to Code.org and How it is Beneficial for Kids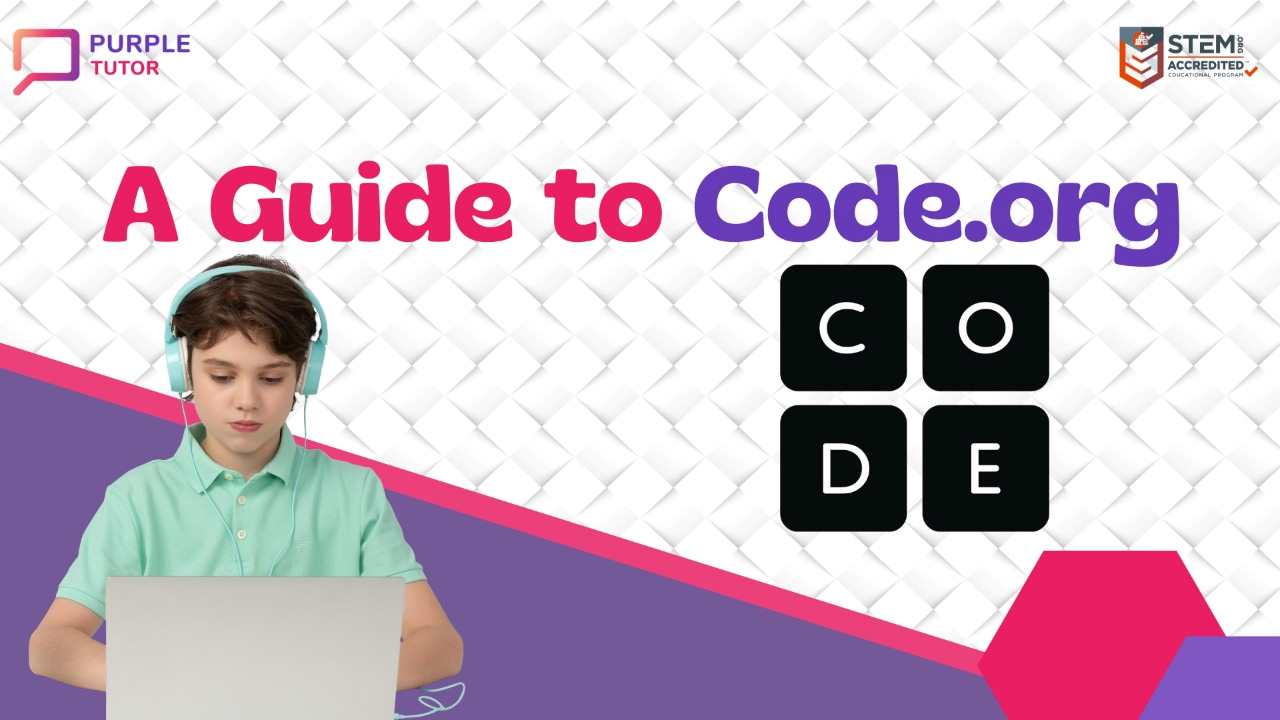 Code.org is a non-profit organisation aiming to promote computer science education and increase access to it, especially for underrepresented groups. It offers a variety of resources and tools to help students learn computer science. They offer online courses, lesson plans, and interactive exercises for kids. The courses designed are self-guided and students can learn at their own pace. The courses offered by Code.org is suitable for students of all ages and skill levels. Almost all courses on the platform are in Javascript language, which is the most widely used programming language in the world. The languages of HTML and CSS are also used in web design lessons.
The purpose of Code.org is to ensure that more students have the opportunity to learn about computer science and pursue careers in the field. Computer science and computer programming should be part of the core curriculum in education, along with other subjects.
Benefits of Using Code.org
There are several benefits to using Code.org for computer science education, such as –
The courses are free – Code.org offers its courses and resources for free to students and educators. This means that anyone can access the materials and use them to learn computer science
The courses are self-guided – The courses are designed to be self-guided. This makes them a great option for students who prefer to learn independently
The courses are interactive – Code.org's courses are designed to be interactive, so students can actively participate in their own learning. This can make the learning process more engaging and enjoyable
Overall, Code.org is a valuable resource for anyone who is interested in learning computer science. Their courses are widely recognised, and the organisation is committed to increasing access to computer science education and promoting the study of computer science.



What is Hour of Code?
Hour of Code is an annual event organised by Code.org that takes place during Computer Science Education Week to celebrate the importance of computer science education. The Hour of Code is designed to be a global event that encourages people of all ages to try their hand at computer science. It is intended to be an introduction to computer science, and is aimed at people who may not have any prior experience with coding. During the Hour of Code, participants are invited to complete one of the many online tutorials that are available on the Code.org website. The event is mostly held in mid-December and is observed in more than 180 countries around the world. Overall, the Hour of Code makes it possible for anyone to learn and experience the fun and excitement of coding.
Courses on Code.org
There are a variety of courses for students of all ages and skill levels. Some of the courses that are available on Code.org include:
Computer Science Fundamentals Courses – These courses introduce students to the basics of computer science and are suitable for students in grades K-5
AP Computer Science Principles Course – This course is designed to prepare students to take the AP Computer Science Principles exam. It is suitable for students in grades 9-12
Computer Science Discoveries Course – This course is designed to introduce students to the fundamental concepts of computer science. It is suitable for students in grades 6-10
Computer Science Principles Course – This course is designed to introduce students to the fundamental concepts of computer science and to help them develop problem-solving skills. It is suitable for students in grades 9-12
In addition, there are a variety of other resources and tools to help students learn computer science, including lesson plans, interactive exercises, and project ideas.
Interesting Projects to Learn and Create
Code.org offers a variety of interesting games that students can work on to apply their computer science knowledge and skills. The games designed are engaging and challenging. They help students develop valuable skills like problem-solving and creativity. Some of the interesting games that are available on Code.org include:
Angry Birds – Students can learn how to recreate the popular game Angry Birds using code. This game can help students develop problem-solving skills and an understanding of how physics works
Flappy Bird – Kids can learn to recreate Flappy Bird games using code. This game can help students develop problem-solving skills and an understanding of how game design works
Minecraft – Learning how to create their own Minecraft-style games using code can develop an understanding of how 3D graphics works
Mario – Kids can recreate the game Mario using code.org. There are tutorials on how to create a simple version of the game Mario using Scratch
How to Use Code.org?
You have to visit the official website of code.org
In the top right corner, there is an option to Sign In. Click on it and you will find  the option to 'create an account'
After creating an account, you can explore the various coding activities and resources available on the site. There are options for kids of all ages, ranging from simple block-based coding activities to more advanced projects using text-based languages such as Python
Select a coding activity or lesson that interests you and follow the instructions provided
As you work through the lesson, you can use the online code editor to write and test your code
If you get stuck or have any questions, you can refer to the lesson materials or use the built-in help resources
About Purple Tutor
Purple Tutor is creating Future Tech Leaders. We are building independent coding confidence in every single child. We offer courses like – Python, Web Development, Artificial Intelligence, Machine Learning, Cyber Security and Roblox Games. PurpleTutor is the only coding platform that mandates every teacher to have a formal Computer Science degree. Our stringent teacher selection process ensures only the best teachers deliver our curriculum to your child.
Frequently Asked Questions (FAQs)
1. Can I try a free class? 
A: Yes. the first demo class is free of charge. You can book the free class from the booking link.
2. Is the coding course schedule flexible?
A: The courses for kids are flexible. You can select any time and any day that works around your child's schedule.
3. How do I know what coding course is right for my kid?
A: The teachers assess the level of the student in the demo class on the basis of which the course is suggested.
4. Will my child receive a certificate?
A: Students get certificated after completion of each course. The certificate recognises the skills the student learnt and the level of mastery achieved.
5. What do you require to learn coding from Purple Tutor?
A: You need a laptop/computer with a webcam and a stable internet connection.