Minecraft for Kids: An Introduction to the World of Minecraft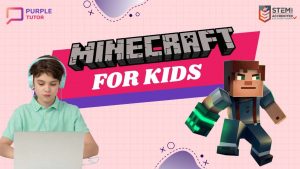 Minecraft is a sandbox video game that is popular among children of all ages. It was created by Markus Persson and released by Mojang in 2011. After its launch, it has gained a massive following among children, students, and adults alike.
Minecraft allows players to explore, create, and survive in a vast, procedurally generated world made up of blocks. The main gameplay modes in Minecraft are the following three:
In Survival mode, players must gather resources and craft items to survive and thrive in the world.
In Creative mode, players have unlimited resources and can build and create anything they can imagine.
In Adventure mode, players can play through custom maps and experiences created by other players.
Minecraft is a great game for kids because it encourages logical thinking, creativity, problem-solving, and teamwork. It also has a strong community of players who share their creations and offer support to one another. These are also the benefits of learning coding at an early age.
Minecraft Projects
One of the salient features about Minecraft is the endless possibilities for creativity. Kids can build anything they can imagine, from simple houses to elaborate castles and even entire cities. The ability for abstraction and spatial thinking gets greatly enhanced when working on Minecraft projects.
There are also a ton of resources available online for Minecraft projects. Sites like Planet Minecraft and the official Forum offer a vast number of ideas and tutorials for kids to follow. Some popular Minecraft projects for kids include building their own theme park, creating a working computer in the game, or even recreating their own neighbourhood or school. The possibilities when building Minecraft projects are limitless.
It is also a great tool for educational projects. Many teachers use it in the classroom to teach subjects like history, geography, and even programming.

Age Appropriateness
Minecraft is rated "E for Everyone" by the Entertainment Software Rating Board (ESRB). This means that it is suitable for players of all ages. However, younger kids may need some guidance and supervision when playing the game, especially when playing in Survival mode. Parents can also supervise children when they are playing.
Minecraft Free
While it is a paid game, there are ways to play it for free. One way is to use a free version of the game called Minecraft Classic. This version is a browser-based game that is a simplified version of the original game. It is available to play for free on the official website.
Minecraft Classic
Minecraft classic is a free version of the original game. With the classic version, one can build and explore virtual worlds using blocks. You can also access basic features such as multiplayer support and the ability to save and load worlds. Minecraft Classic is a simplified version of the game and is perfect for players who are new to Minecraft or who prefer a more older gaming experience. It's an easy-to-use interface and has easily accessible gameplay. Minecraft Classic is a great way to start with the game.
TLauncher
TLauncher is a popular third-party launcher for Minecraft that allows players to download and play the game for free. It also offers access to a variety of custom mods and skins. However, it is important to note that using TLauncher is not official and may be against the terms of service for Minecraft.
Using TLauncher is relatively simple. First, players will need to download the TLauncher program from the official website. Then, they can select the version of Minecraft they want to play and press the "Install" button. The game will then be downloaded and installed on the player's computer.
While TLauncher is a convenient way to play it for free, it is very important to note that it is not an official way to play the game. Once should note that using TLauncher may be against the terms of service and could potentially lead to account bans or other issues.
Minecraft for Kids: Conclusion
Minecraft is a great game for kids because it encourages logical thinking, creativity, problem-solving, and teamwork. It is available to play for free through Minecraft Classic and users can get started fairly quickly. With its vast resources and many modes once can make intriguing projects. In addition to the game play, Minecraft coding has many benefits, leading to overall development.
Start Learning Minecraft Coding
PurpleTutor offers exposure to Minecraft coding within its courses too. Kids use block-based programming and apply their learnings of the core programming concepts to solve puzzles of varying complexities and create their own city in using Minecraft coding.
Frequently Asked Questions (FAQs)
1. Can I try a free class? 
A: Yes. the first demo class is free of charge. You can book the free class from the booking link.
2. Is the coding course schedule flexible?
A: The courses for kids are flexible. You can select any time and any day that works around your child's schedule.
3. How do I know what coding course is right for my kid?
A: The teachers assess the level of the student in the demo class on the basis of which the course is suggested.
4. Will my child receive a certificate?
A: Students get certificated after completion of each course. The certificate recognises the skills the student learnt, and the level of mastery achieved.
5. What do you require to learn coding from Purple Tutor?
A: You need a laptop/computer with a webcam and a stable internet connection.