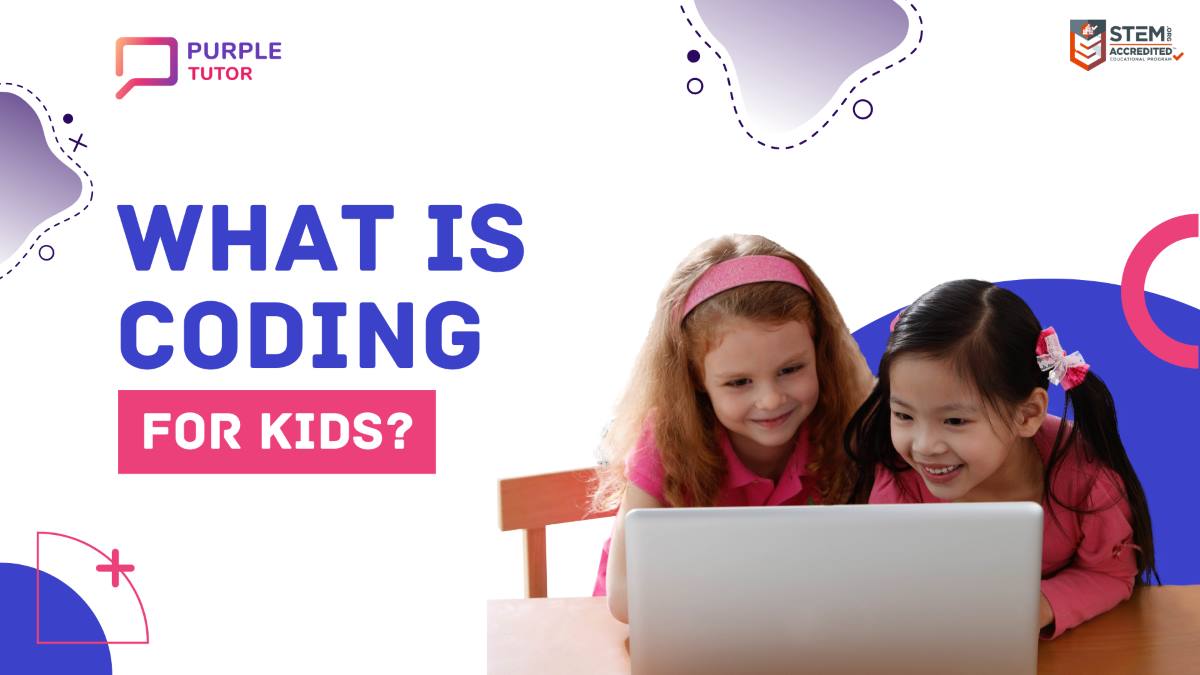 Learning to code has become a hobby for kids. Today, kids can easily acquire the skills of coding and do wonders with it. They can become the master of invention, which the world is already witnessing. Know what is coding for kids, its benefits, mega opportunities, and the best coding courses for kids online.
What is Coding?
In simple terms, coding is a set of instructions to communicate with computers. It is the language of the computer. Coding and programming is a creative process where you tell the computer how to perform a specific task. Coding gives a child valuable skills for a lifetime. People who know how to code can create apps, games, websites, computer software, and other technology.
Just like the child learns different languages in school such as English, Hindi, Sanskrit, French, etc., similarly, the child learns different coding languages such as –
Python

It is one of the most popular programming languages as it is easy for beginners to learn. It is used in developing 2D and 3D animation. Python is used for scientific and computational applications like FreeCAD and Abacus. It is a language used by many popular websites like Instagram, YouTube, Quora, Pinterest, etc.

JavaScript

JavaScript is considered amongst the most popular programming language in the world. It is easy to learn and implement. Javascript is used everywhere on the web, for example, Google Chrome, Internet Explorer, Mozilla Firefox, etc.

Scratch 

It's one of the easiest programming languages for kids to learn. They can learn coding by creating, dragging and dropping colourful command blocks. Scratch enables students and kids to create games, animate characters, build apps, sound effects, voice-overs and much more

C++

It is the world's most popular language for coding. C++ is an advanced version of C. Once the principles of programming are grasped, it can open many doors of opportunity. This programming language can be used to create systems software, games, and various other programs

Alice

It is a block-based coding and programming language developed for kids and students. It uses a drag-and-drop approach which enables kids to grasp the language fast. Coding and programming allow users to make 3D games, animations, etc.
Benefits of Coding for Kids
Coding for kids is not a typical course, but a highly creative skill where the child acquires timeless qualities like critical thinking, problem-solving ability, communication tactics, etc. It allows the kid to think out of the box. Here are some of the most important benefits of learning to code for kids-
1. Coding Strengthens Academic Skills
In the technology world, many academic learnings have gone digital. Nowadays, students are assigned unique projects where coding and programming can be very helpful. They will have their own creative thoughts in their academics. Coding fosters the development of planning, mathematical thinking, and many more, which will assist them in their education.
2. Coding Makes the Child Innovator
Coding gives you the power of creation! You can come up with your own creativity and invent something in technology. You can also develop apps, websites, mobile games, unique programs, and more if you know how to code.
3. Coding Boosts Problems Solving Ability
Coding pushes you to think logically, which is a great skill required in life. You are required to tackle complex problems and break them into smaller parts to solve them. Such techniques used in coding and programming help kids understand and approach various challenges with logic. When they grow, they could face many problems, but they will learn to handle them with proper solutions.
4. Coding Enhances Creativity
Coding gives an opportunity to experiment and grow. Once kids learn and understand basic functionalities they love to experiment which pushes their creative limits. They can create their own projects such as developing apps, websites, unique programs or animated characters, etc. It allows hosts of options to showcase creative skills.
5. Coding is a Career – Building Skill
We live in a digital world. The opportunity for jobs and talents related to coding and programming like software developers is growing tremendously. Software development has become a mainstream career option in India. With a placement rate of 93.5% Software Engineers have witnessed a 120% increase in salary in 2021-2022. The opportunity is huge! Beyond employment, coding develops timeless qualities and skills in a child from a young age.
Best Online Coding Courses for Kids 2023
Coding is exciting. It gives the power to create and ideate. It enhances academic performance and logical skills. The multifold benefits and opportunity your child gets from coding is worth the investment! Purple Tutor provides coding courses for 4 age groups – 
Little Champs: 6 – 8 years old
The course builds an understanding of the core programming concepts through block-based programming. Each concept is introduced using interesting puzzles of varying complexity and engaging themes. Students are given different projects to apply their learnings. They are exposed to AI-based projects using the Scratch platform. Students are able to create simple animations, games, geometric patterns and android apps during the first 100 sessions.
Young Learners: 9 – 11 years old
Students start programming through block-based platforms and then gradually transit to text-based programming. This course will teach kids to make drawings, animations and games using JavaScript. Python programming using the turtle module. They learn to design UX and UI for android apps during the app development module. Students learn the basic principles of AI and create projects on Scratch to detect sound, images and movement. This level engages students' creativity and ensures every student learns website development, designing games and models in Roblox, Space tech, and the basics of data science.
Early Achievers: 12-14 years old
The entire course uses a text-based programming approach. Students learn core Python, 2D animation and game development using Javascript, Android app development, basics of AI and machine learning, website development, 3D animation and game development using Roblox, space tech and data science with Python.
Young Professionals: 15 – 18 years old
The course gives advanced and in-depth Python knowledge required for students to get ready for their university. This coding course for kids starts with core Python fundamentals and then goes deeper into data structure, file handling, data science and a basic intro to Artificial intelligence (AI) and Machine Learning (ML).
Frequently Asked Questions (FAQs)
1. Can I try a free class for coding? 
A: Yes. the first demo class is free of charge. You can book the free class from the booking link.
2. Is the coding course schedule flexible?
A: The courses for kids are flexible. You can select any time and any day that works around your child's schedule.
3. How many hours is each level?
A: We have 300 hours of course material ready with us. You can take a smaller package and then renew for more hours later.
4. How do I know what coding course is right for my kid?
A: The teachers assess the level of the student in the demo class on the basis of which the course is suggested.
5. Will my child receive a certificate?
A: Students get certificated after completion of each course. The certificate recognises the skills the student learnt and the level of mastery achieved.
6. What do you require to learn coding from Purple Tutor?
A: You need a laptop/computer with a webcam and a stable internet connection.