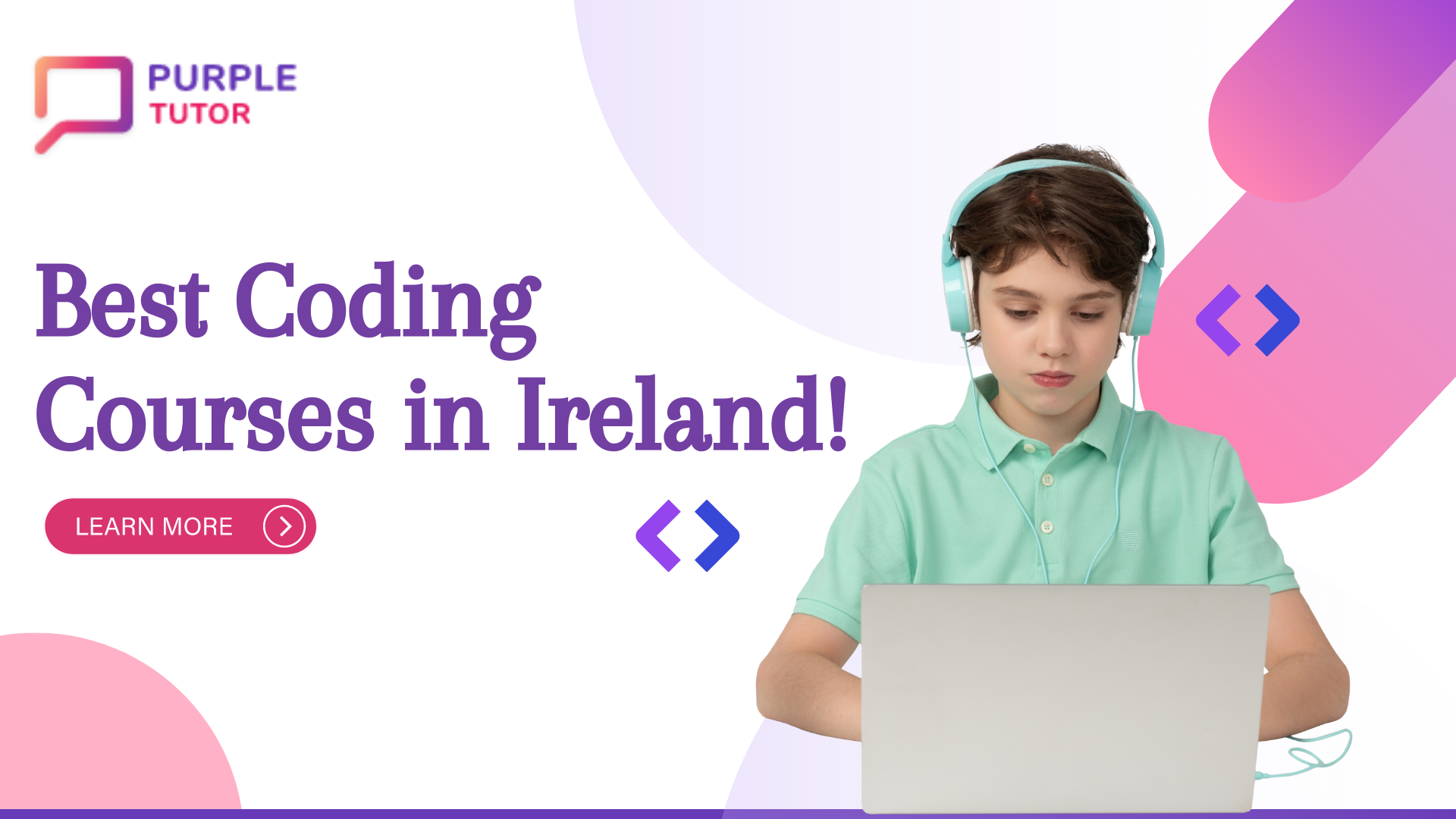 With the rapid growth of the tech industry, coding skills have become an essential asset for individuals looking to stay competitive in the job market. Ireland's IT industry is estimated to be between US$15-20Bn and growing, globally the growth rates are even higher. Whether you are a child looking to build interest or an older student, everyone can benefit by learning to code. Children as young as 6 years can get exposed to the world of coding and building their skill sets. if interested they may even build a career in the technology industry. The best coding courses in Ireland provide comprehensive training in various programming languages, equipping you with the skills needed to excel in the tech world. In this article, we will explore why learning computer science is essential, discuss the top 10 coding courses in Ireland, and delve into the various aspects of the programming landscape.
Why Learn Computer Science?
Computer science is the backbone of the digital world, providing the foundation for countless innovations and technologies. Learning computer science equips you with essential problem-solving skills, logical thinking abilities, and an understanding of how software and hardware interact. The best coding courses in Ireland often feature live classes with experienced instructors, ensuring personalized guidance and support throughout your learning journey.
Top 10 Coding Courses in Ireland
Ireland is home to a thriving tech ecosystem, offering a diverse range of coding courses to suit all skill levels. Many of these courses incorporate live classes, giving students the advantage of real-time feedback and interaction with instructors. The top 10 best coding courses in Ireland include:
Advanced Python courses
Web Development (HTML, CSS, JavaScript)
App Development (iOS, Android)
Data Science Courses
Cyber Security Courses
Artificial Intelligence & Machine Learning Courses
Game Design Courses
JavaScript Courses
Roblox Courses

What Coding is in the Highest Demand?
As the tech industry continues to evolve, certain programming skills are in higher demand than others. Currently, Python, and JavaScript are among the most sought-after coding languages in Ireland. These languages are popular due to their versatility, ease of use, and wide range of applications in areas such as web development, data analysis, and machine learning.
How Much Does a Coder Make in Ireland?
The average salary for a coder in Ireland depends on factors such as experience, programming languages, and the specific role. However, as a rough estimate, software developers in Ireland can expect to earn between €40,000 and €80,000 per year, with more experienced coders potentially earning higher salaries.
Which Coding is Best for Beginners?
For beginners looking to dive into the world of programming, Python is often recommended as the best coding language to start with. Python is known for its simple syntax, readability, and vast library of resources, making it an ideal choice for those new to coding.
What is the Best Coding School in Ireland?
Ireland boasts several reputable coding schools, each offering a range of courses tailored to various skill levels and interests. The best coding school for you will depend on your individual needs and goals. When choosing a coding school, consider factors such as the curriculum, instructors' expertise, and the availability of live classes for a more interactive and personalized learning experience. PurpleTutor's coding classes are well-accepted by students across Europe including Ireland. You may schedule a complimentary trial class to experience the same.
Computer Courses for Beginners
For those new to the world of programming, several beginner-friendly computer courses are available in Ireland. These courses typically cover the basics of programming languages such as Python, JavaScript, or HTML and CSS, providing a solid foundation for more advanced topics. For young students as early as 6 years and above, block-based coding which focus on building fundamentals is important. Rather than learning syntax it's important to build a strong foundation on concepts.
Best Data Analysis Courses
Data analysis involves extracting insights from large datasets to drive better decision-making and innovation. The best coding courses in Ireland offer live classes in data analysis, covering essential topics such as data visualization, predictive modeling, and statistical analysis. By learning from experienced instructors, you'll develop the skills needed to transform raw data into valuable insights. Check out these courses for Data Science:
Learn Python Programming
Python is a versatile, beginner-friendly programming language with a wide range of applications, from web development to data analysis. The best coding courses in Ireland offer live classes in Python programming, allowing you to interact with instructors and gain hands-on experience. These live classes help you master Python's syntax, libraries, and best practices, setting the foundation for more advanced topics. Check out these courses for Python:
Best Web Development Courses
Web development involves creating and maintaining websites and web applications, using programming languages such as HTML, CSS, and JavaScript. The best coding courses in Ireland provide live classes in web development, offering hands-on training in front-end and back-end technologies. With guidance from experienced instructors, you'll learn how to build responsive, user-friendly websites that meet modern design standards.
Best Cyber Security Courses
As our reliance on digital systems and the internet grows, cyber security has become a critical skill in the tech industry. The best coding courses in Ireland offer comprehensive training in cyber security, covering topics such as network security, cryptography, and ethical hacking. Live classes with experienced instructors ensure you develop practical skills and stay up-to-date with the latest security trends and threats. Check out this course for Cyber Security:
Best Artificial Intelligence Courses
Artificial Intelligence is one of the fastest growing fields within technology. Check out these courses for Artificial Intelligence:
Conclusion
Investing in the best coding courses in Ireland will equip you with the skills and knowledge needed to succeed in the ever-evolving tech landscape. By focusing on live classes led by experienced instructors, you'll receive personalized guidance and support, ensuring a rewarding and engaging learning experience. Students as early at 6 years can start to learn coding, so whether you're a young student or in high school or an experienced coder looking to expand your skillset, Ireland offers a wealth of opportunities to enhance your coding abilities and boost your career prospects. Investing in the best coding courses in Ireland will equip you with the skills for tomorrow.
Frequently Asked Questions (FAQs)
1. Is there a free demo class?
A: Yes. We give one free demo class, which can be booked from the booking link. We encourage you to take the class and assess the experience.
2. Can I select my schedule for the classes?
A: Yes. We have flexible days and times. You can select any time and any day that suits your timetable.
3. Is there any certificate given on completion of the online coding course?
A: The student will get a certificate after completion of the coding course.
4. What do you require for learning coding from PurpleTutor?
A: It is necessary to have a laptop or computer with a webcam and a stable internet connection. For all the courses, there are no coding prerequisites required except for the Data Science coding courses. For these, the student needs to know core Python programming concepts.
For the 3D Animation and Game Design course and the Space Tech coding courses for the Age group 12-15 years. Please go through Roblox hardware and OS requirements as mentioned here.
6. Do you have assessments during the coding course?
A. Yes, we assess the student periodically during the progress of the coding classes and give feedback on the student's performance.
7. What are the courses that PurpleTutor offers?
A: PurpleTutor provides Cutting edge courses to make the student's future ready. Courses are offered for all ages starting as early as 6 years. We have courses like – Python, Web Development, Machine Learning and Artificial Intelligence Courses, Cyber Security, Roblox Games & many more on offer. We offer math courses too.
Please visit our courses section for more information or talk to a counsellor. We encourage you to book a complimentary class with us, enjoy & assess the in-class experience. One can also discuss courses with our teachers in-person too during the class too.