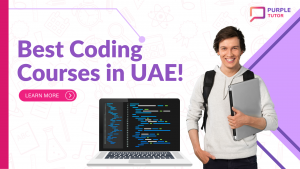 Top 10 Coding Courses in UAE
UAE offers a variety of coding courses for kids, covering different programming languages and skill levels. Many of these courses incorporate live classes, providing a more interactive and engaging learning experience. The top 10 coding courses in UAE include:
Advanced Python courses
Web Development (HTML, CSS, JavaScript)
App Development (iOS, Android)
Data Science Courses
Cyber Security Courses
Artificial Intelligence & Machine Learning Courses
Game Design Courses
JavaScript Courses
Roblox Courses

Can I Learn Coding on My Own?
While self-learning is possible, enrolling in a structured coding course with experienced instructors offers numerous advantages. Live classes provide personalized guidance, immediate feedback, and an engaging learning environment, helping students stay motivated and focused on their coding education.
Which is the Most Demanded Course in UAE?
The demand for coding courses in UAE varies depending on industry trends and technological advancements. Currently, courses in data science, artificial intelligence, cyber security, and app development are highly sought after due to their relevance in various sectors.
Coding Courses in Dubai
There are several coding courses available across the UAE, with options for beginners and more advanced students. These courses cover a range of programming languages and specialized topics, ensuring that every learner can find a course that suits their interests and skill level. PurpleTutor's coding classes are well-accepted by students across Middle-East including Dubai. You may schedule a complimentary trial class to experience the same.

Coding Courses in Abu Dhabi
Abu Dhabi, like other cities in the UAE, offers numerous coding courses for children aged 6-18 years. These courses include beginner-friendly programming languages such as Scratch and Python, as well as more advanced topics like data science and artificial intelligence. PurpleTutor offers a wide variety of coding courses in Abu Dhabi. These have been well-accepted by students in Abu Dhabi too. You may schedule a complimentary trial class to experience the same.
Best Python Courses
Python is a versatile and beginner-friendly programming language, making it an ideal choice for young learners. The best coding courses in UAE offer live classes in Python programming, allowing students to interact with instructors and gain hands-on experience in real-time. Check out these courses for Python:
Best Data Science Courses
Data science courses teach students how to analyze, visualize, and interpret data. The best coding courses in UAE provide live classes in data science, covering essential topics such as data manipulation, statistical analysis, and machine learning. Check out these courses for Data Science:
Best Artificial Intelligence Courses
Artificial intelligence (AI) is an increasingly important field in today's technology-driven world. The best coding courses in UAE offer AI courses that cover topics such as machine learning, neural networks, and natural language processing. Live classes led by experienced instructors ensure that students gain a strong understanding of AI concepts and techniques, preparing them for future careers in this rapidly growing field. Check out these courses for Artificial Intelligence:
Best Cyber Security Courses
As our reliance on digital systems and the internet grows, cyber security has become a critical skill in the tech industry. The best coding courses in UAE offer comprehensive training in cyber security, covering topics such as network security, cryptography, and ethical hacking. Live classes with experienced instructors ensure students develop practical skills and stay up-to-date with the latest security trends and threats. Check out this course for Cyber Security:
Best App Development Courses
App development is a valuable skill in the age of smartphones and tablets. The best coding courses in UAE provide live classes in app development, offering hands-on training in both Android and iOS platforms. With guidance from experienced instructors, students will learn how to design, build, and deploy user-friendly mobile applications that meet modern design standards. Check out this course for App Development:
Conclusion
Investing in the best coding courses in UAE will equip your child with the skills and knowledge needed to succeed in the ever-evolving tech landscape. By focusing on live classes led by experienced instructors, students receive personalized guidance and support, ensuring a rewarding and engaging learning experience. Whether your child is just starting their coding journey or looking to expand their skillset, the UAE offers a wealth of opportunities to enhance their coding abilities and ignite a lifelong passion for technology.
Frequently Asked Questions (FAQs)
1. Is there a free demo class?
A: Yes. We give one free demo class, which can be booked from the booking link. We encourage you to take the class and assess the experience.
2. Can I select my schedule for the classes?
A: Yes. We have flexible days and times. You can select any time and any day that suits your timetable.
3. Is there any certificate given on completion of the online coding course?
A: The student will get a certificate after completion of the coding course.
4. What do you require for learning coding from PurpleTutor?
A: It is necessary to have a laptop or computer with a webcam and a stable internet connection. For all the courses, there are no coding prerequisites required except for the Data Science coding courses. For these, the student needs to know core Python programming concepts.
For the 3D Animation and Game Design course and the Space Tech coding courses for the Age group 12-15 years. Please go through Roblox hardware and OS requirements as mentioned here.
6. Do you have assessments during the coding course?
A. Yes, we assess the student periodically during the progress of the coding classes and give feedback on the student's performance.
7. What are the courses that PurpleTutor offers?
A: PurpleTutor provides Cutting edge courses to make the student's future ready. Courses are offered for all ages starting as early as 6 years. We have courses like – Python, Web Development, Machine Learning and Artificial Intelligence Courses, Cyber Security, Roblox Games & many more on offer. We offer math courses too.
Please visit our courses section for more information or talk to a counsellor. We encourage you to book a complimentary class with us, enjoy & assess the in-class experience. One can also discuss courses with our teachers in-person too during the class too.