Best Computer Courses & Coding Bootcamps in UK
Why Computer Courses are important?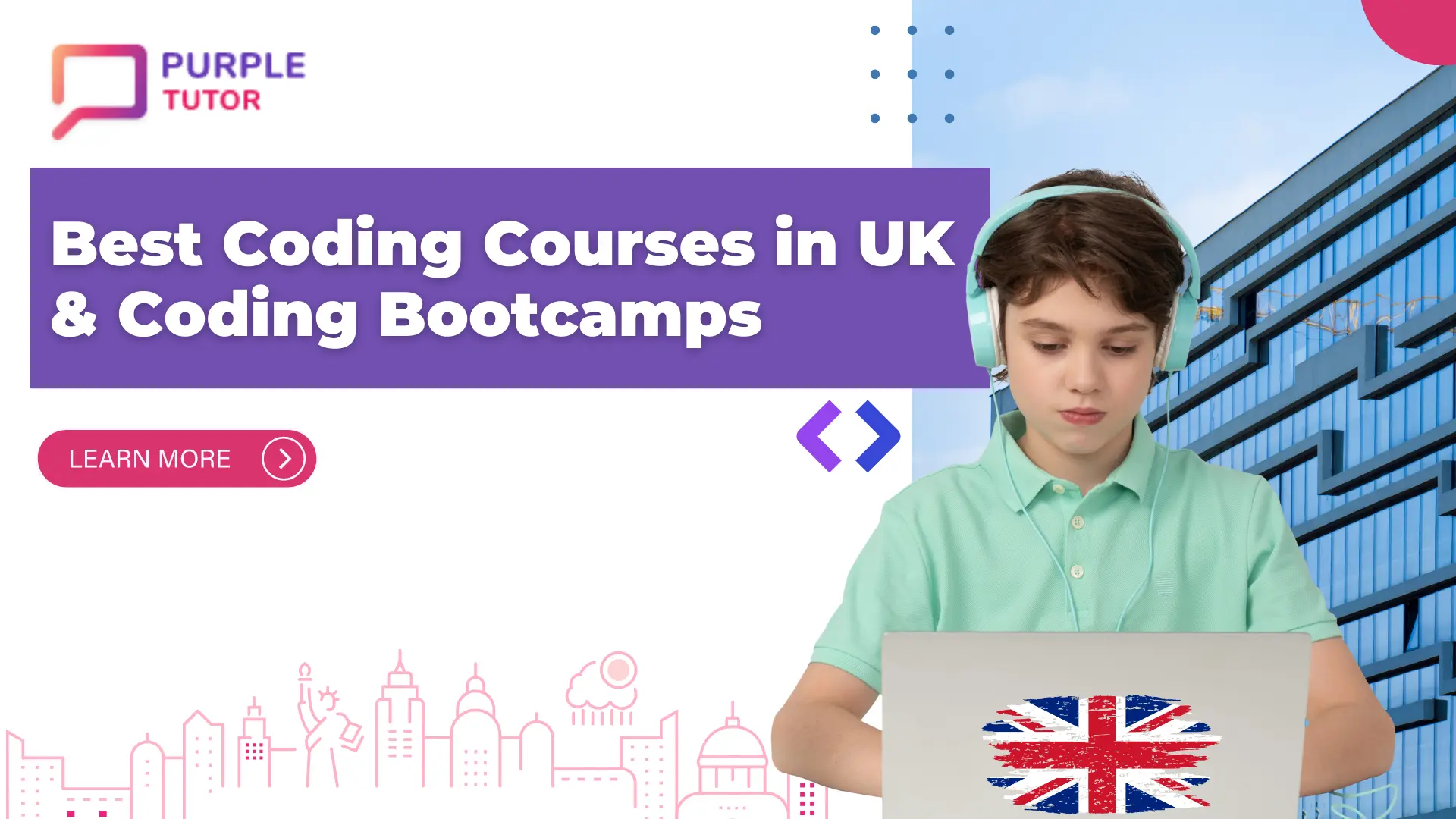 The importance of coding skills in today's job market cannot be overstated. With technology rapidly advancing, the demand for skilled programmers and developers continues to grow. In the UK, an increasing number of individuals are seeking coding courses and bootcamps to enhance their skills and secure lucrative careers. In this article, we will explore the best computer courses in the UK and the advantages of coding bootcamps, particularly those provided by PurpleTutor for schools.
Top Coding Courses in the UK
Below we list down the top 10 coding courses in UK. According to our research these are the best computer courses in UK to learn:
1. Python Courses
Python is a versatile and beginner-friendly programming language, making it a popular choice for coding courses. Check out these courses for Python:
2. Advanced Python Courses
For those looking to deepen their Python expertise, advanced courses are available. These courses cover topics such as web development, data analysis, and machine learning, allowing learners to specialize in their preferred area.
Check out the below course for details.
3. Data Science Courses
Data science courses teach students how to manipulate, analyze, and visualize data using various programming languages and tools. These courses often cover subjects like statistics, data mining, and machine learning, providing a comprehensive understanding of data-driven decision-making.
Check out these courses for Data Science:
4. Artificial Intelligence & Machine Learning Courses
Courses in artificial intelligence (AI) and machine learning (ML) are gaining popularity due to their potential to transform industries. Students learn about neural networks, natural language processing, and computer vision, among other topics, equipping them for roles in cutting-edge technology fields.
Check out these courses for Artificial Intelligence:

5. Web Development Courses
Web development courses train students in creating and maintaining websites using programming languages such as HTML, CSS, and JavaScript. These courses cater to both front-end and back-end development, teaching the necessary skills to build responsive, user-friendly websites.
6. Cyber Security Courses
With the increasing reliance on technology, the need for skilled cyber security professionals has surged. Cyber security courses cover topics like network security, ethical hacking, and digital forensics, preparing students to protect data and systems from cyber threats.
7. App Development Courses
App development courses teach students to create applications for various platforms, such as iOS and Android. Check out this course for App Development:
8. Game Design Courses
Game design courses train students in the creative and technical aspects of developing video games. Courses often cover subjects such as storytelling, character design, programming, and project management.
9. JavaScript Courses
JavaScript is a widely-used programming language for web development. JavaScript courses teach students to create interactive web applications and are often combined with HTML and CSS courses for a complete web development education.
10. Roblox Courses
Roblox courses have gained popularity among younger learners, teaching them to create their own games and experiences using the Roblox platform. These courses introduce programming concepts and design principles in a fun and engaging way.
Best Coding Bootcamps in the UK
Coding bootcamps provide an intensive and practical learning experience, equipping students with the skills needed for a successful career in tech. PurpleTutor offers coding bootcamps for schools, fostering a strong foundation in programming and preparing students for future opportunities in the tech industry. Please click the button below to book a bootcamp for your school.
Factors to Consider When Choosing a Coding Course or Bootcamp
A. Course Content and Curriculum
Ensure the course covers relevant topics and offers a comprehensive curriculum that aligns with your career goals.
B. Instructor Quality
Choose courses with experienced instructors who have practical knowledge in the field.
C. Future Prospects & Support
Select courses or bootcamps that provide job placement assistance and support throughout the learning process.
D. Cost and Financing Options
course and explore financing options, such as scholarships or payment plans, to make the investment more manageable.
E. Course Duration and Flexibility
Choose a course that fits your schedule and learning preferences, whether it's a short-term bootcamp or a long-term, part-time course.
Conclusion
The UK offers a wide range of computer courses to cater to the diverse interests and goals of aspiring tech professionals. From Python and web development to AI and cyber security, there's a course to suit everyone's needs. Coding bootcamps, like those provided by PurpleTutor for schools, are an excellent way to gain practical skills and get exposed to coding. By considering factors such as course content, instructor quality, and job placement support, you can select the best computer course in the UK to advance your learning and achieve success in the ever-evolving world of technology.
Frequently Asked Questions (FAQs)
1. Is there a free demo class?
A: Yes. We give one free demo class, which can be booked from the booking link. We encourage you to take the class and assess the experience.
2. Can I select my schedule for the classes?
A: Yes. We have flexible days and times. You can select any time and any day that suits your timetable.
3. Is there any certificate given on completion of the online coding course?
A: The student will get a certificate after completion of the coding course.
4. What do you require for learning coding from PurpleTutor?
A: It is necessary to have a laptop or computer with a webcam and a stable internet connection. For all the courses, there are no coding prerequisites required except for the Data Science coding courses. For these, the student needs to know core Python programming concepts.
For the 3D Animation and Game Design course and the Space Tech coding courses for the Age group 12-15 years. Please go through Roblox hardware and OS requirements as mentioned here.
6. Do you have assessments during the coding course?
A. Yes, we assess the student periodically during the progress of the coding classes and give feedback on the student's performance.
7. What are the courses that PurpleTutor offers?
A: PurpleTutor provides Cutting edge courses to make the student's future ready. We have courses like – Python, Web Development, Machine Learning and Artificial Intelligence Courses, Cyber Security, Roblox Games & many more on offer. We offer math courses too.
Please visit our courses section for more information or talk to a counsellor. We encourage you to book a complimentary class with us, enjoy & assess the in-class experience. One can also discuss courses with our teachers in-person too during the class too.