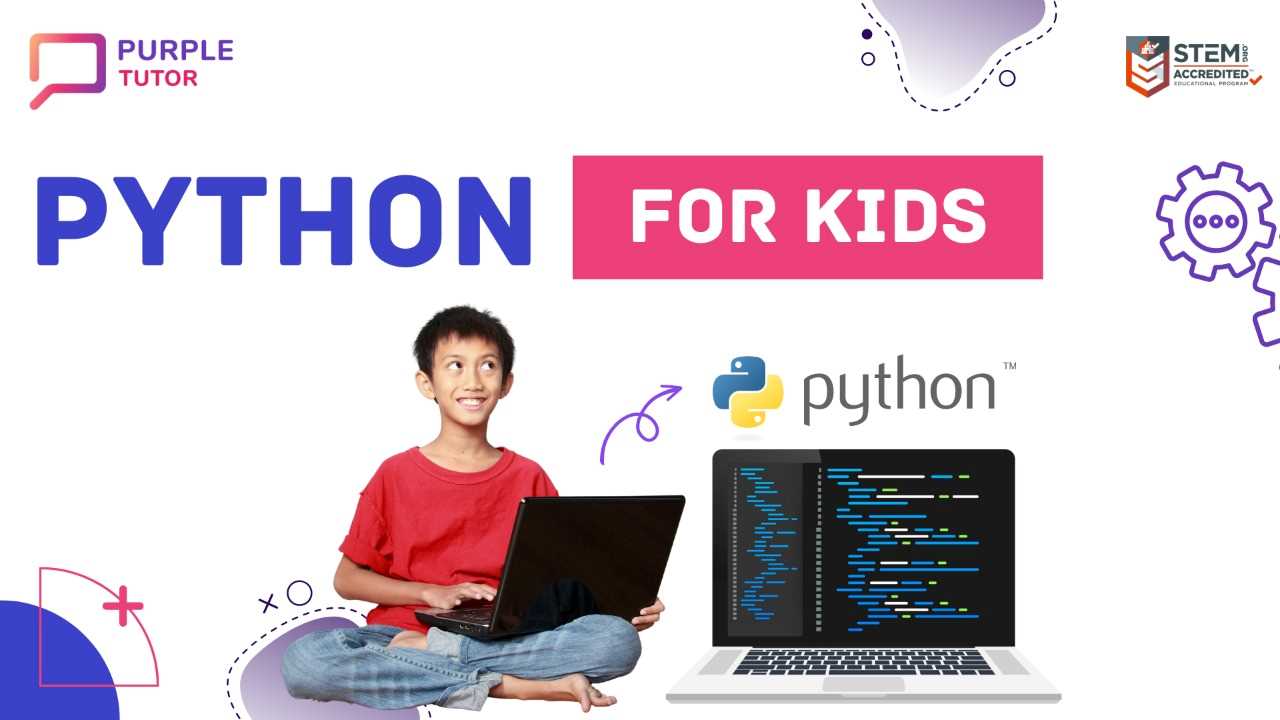 Learning to code is a rewarding experience for kids. It helps them build multifaceted skills and talent. Python is a great programming language for kids and students to learn and build something of their own. It is an easy and interesting programming language to understand for kids. Python is the most popular language and is used by millions of programmers worldwide. Top companies like Facebook, Netflix, NASA, JP Morgan, Spotify, YouTube, Quora, PayPal, Instagram, Pinterest, and many others use Python. Get an overview of what is python for kids, the benefits of python coding for kids, the best python courses for kids online, etc.
What is Python?
Python is a programming language used to make games, web applications, and many things. It is a popular language for beginners and is simple to learn and easy to read. It has a large user base worldwide, which means that it comes under high-paying jobs in the market. Python is used for a wide range of applications, including web development, data analysis, scientific computing, and artificial intelligence.
Python coding for kids is the process of teaching children how to write programs in the Python programming language. Coding for kids is a fun experience and moreover, it helps them develop problem-solving, logical thinking and critical thinking skills. It is a great medium for kids to express their creativity and build something of their own.
Python is a programming language that is widely used in education and is considered to be a great language for beginners, including kids. Every programming language like JavaScript, HTML, CSS, etc. has its own uses and features, but Python is an in-demand programming language and is used in multiple fields, such as –
AI (Artificial Intelligence) and ML (Machine Learning)
Web Development
Programming Applications
Game Development
Automation
Finance
Benefits of Python for Kids
Kids are dreamers and imaginative. For instance, give them clay or chalk, and they will make shapes or draw something out of the world. If such skills and imagination are utilised properly, they can yield great results in the personal, academic and future professional life of the child. The best part of learning Python is that kids can start early because it is easy to understand as well as highly intuitive. Therefore, the best age to learn Python is as early as possible. 
Some of the major benefits of learning Python for kids include:
Python is a high-level programming language that is easy to read and write, which makes it a great language for kids to learn
It is used in a variety of fields and is in demand, which means learning Python is a valuable skill for kids
Python is beginner-friendly, which makes it popular for kids and entry-level coders
Python can be used to create a wide range of programs, from simple scripts to complex applications, this enables kids to solve many different types of problems. This means that kids who learn Python will have a wide range of career options open to them as they grow up
It is a widely used language in the tech industry
Learning to code with Python develops a lot of valuable skills in kids like computational thinking, problem-solving, critical thinking, logical thinking, etc.
Learning Python programming can be a lot of fun for kids. It allows them to create and build their own projects, which can be a very rewarding and motivating experience
Learning python boosts creativity in kids. This leads them to think differently and eventually encourages them to be innovative
Best Python Coding Courses for Kids 2023
Purple Tutor offers python programming courses under two age groups –
Young Learners Course – Age Group 10 to 11 Years
Students learn the basic concepts of python programming language. They start programming using blocks with python commands written on them and gradually shift to text-based programming. All programs are written using the python turtle library.
Advanced Python Programming course – Students explore advanced Python concepts such as data types, type casting, basic and advanced data structures like int, float, string, and list.
Early Achievers Course – Age Group 12 to 14 Years
Students learn the basic concepts of the Python programming language. They write programs using a text-based editor. All programs are written using the Python Turtle library. The students learn simple game design and development concepts with Python code.
Advanced Python Programming course – Students will explore advanced Python concepts such as data types, type casting, basic and advanced data structures like int, float, string, tuple, list, dictionary and set. This course also gets them ready for the AI and machine learning module in which they will be exploring the CV2 library of python.
Conclusion
Python is the fastest-growing programming language in the world. This ultimately means more opportunities will grow in the future, therefore the earlier you start the better. Also, learning Python can be a fun and rewarding experience for kids, and can help them develop a range of important skills that will support them in their academics as well as in their professional journey.

Frequently Asked Questions (FAQs)
1. Can I try a free class for coding? 
A: Yes. the first demo class is free of charge. You can book the free class from the booking link.
2. Is the coding course schedule flexible?
A: The courses for kids are flexible. You can select any time and any day that works around your child's schedule.
3. How is the Python course duration?
A: Each course is of 50 hours.
4. How do I know what coding course is right for my kid?
A: The teachers assess the level of the student in the demo class on the basis of which the course is suggested.
5. Will my child receive a certificate?
A: Students get certificated after completion of each course. The certificate recognises the skills the student learnt and the level of mastery achieved.
6. What do you require to attend Python coding courses from Purple Tutor?
A: The student does not need to know any coding prior to starting the course. There are no coding prerequisites since the Python course will start with the very basics before moving on to the core concepts. You need a laptop/computer with a webcam and a stable internet connection.